Statement — Measures to manage COVID-19 on the Keystone XL project
With the current and evolving Coronavirus (COVID-19) situation, we've provided some insight as to how Keystone XL is responding to this situation. And, as safety is our number one value, we extend our sincerest well-wishes to the families affected, and we recognize the tremendous efforts of first responders and health professionals worldwide.
We have implemented some proactive measures as we continue to progress the Keystone XL project.
International SOS assisting Keystone XL with COVID-19 prevention
Safety is our number one value! With the current and evolving Coronavirus (COVID-19) conditions, we want to ensure our workforce and the surrounding communities are safe during Keystone XL's pre-construction and construction activities.
We have sought the expertise and experience of International SOS, Corporate Medical Advisors, a member of the International SOS Group of companies, and their partner Beacon Occupational Health and Safety Services, to provide medical advisory and consultation services.
Want to learn more about International SOS, global leaders in medical and travel security, and how they will provide support for Keystone XL, read the following frequently asked questions. Also, learn more at InternationalSOS.com, CorporateMedicalAdvisors.com and BeaconOHSS.com
Implementing safety protocols at our construction sites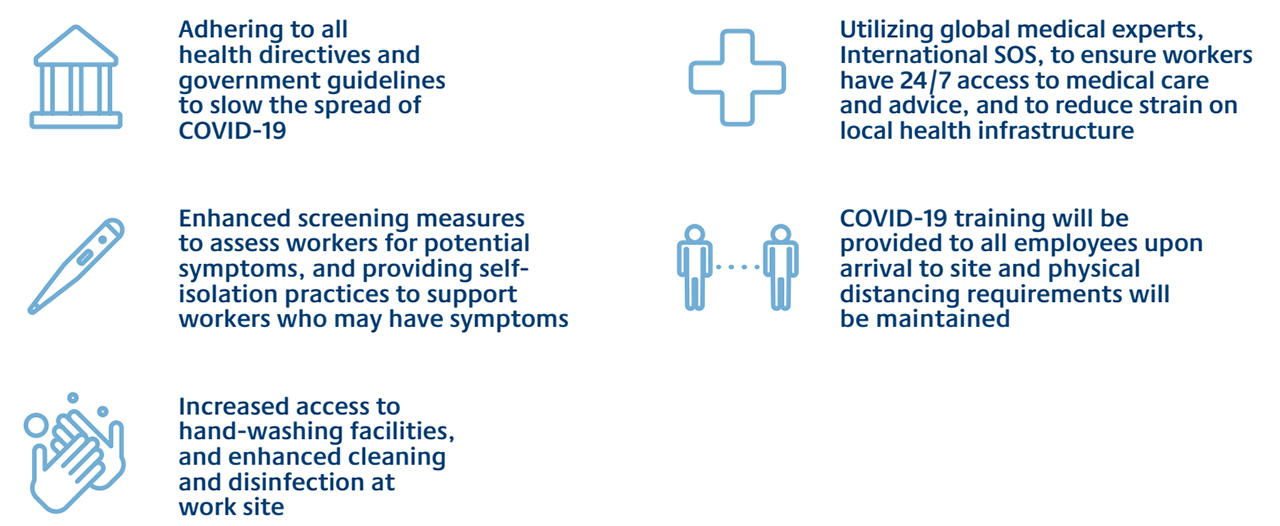 Keystone XL and its prime contractors have taken proactive steps to manage the health risk and prevent the spread of the Coronavirus as we continue with work along the pipeline route in Montana, South Dakota and Nebraska.
We have put into place policies and protocols that follow all guidelines from applicable regulatory agencies, including the Centers for Disease Control and Prevention. We have communicated our policies to local health agencies near our work sites.
We are committed to working closely with these agencies, keeping them informed of conditions at our work sites.
The policies and protocols, established for our work sites, include:
All contractors are required to have a comprehensive Contractor KXL Pandemic/ COVID-19 Plan
Contractors must manage workforce to ensure only essential workers are permitted to access project sites
All individuals must be COVID-19 symptom free prior to arrival on work site
Contractor must manage workforce to complete COVID-19 symptom check to ensure "high risk" personnel (known or suspected infected) do not report to worksite
Daily COVID-19 symptom check assessments will be completed either by personal disclosure when symptom free or by onsite medical check, including temperature screens (where required)
Maintain social and physical distancing – six feet (two metres) from one another, where possible, and addtional measures, including face masks and limiting exposure when six feet (two metres) is not possible
Continued use of good hand hygiene practice including safe hand-washing awareness and practice
Continued use of disinfecting and cleaning protocols including cleaning guidelines and safe material handling practices
Together, we will ensure our workforce and local communities remain safe, and that our important work continues.
Read the Keystone XL COVID-19 Safety Precautions
Protecting our teams, partners and communities
Throughout TC Energy, we've established policies and protocols for employees, contractors and visitors to manage their health risk and quell the spread of infection, including:
Staying connected to various levels of health and government agencies to ensure we're aligned with recommended standards to meet risk levels
Proactively closing our major metropolitan offices and having our employees work remotely, cancelling non-critical travel and holding meetings with partners, where possible, via phone or video conferencing
Requiring that only employees who are critical to the safe and reliable operations are permitted to work in our offices and in the field.
Requiring all our workers to follow safe practices, including hygiene, avoiding large public gatherings, adhering to travel restrictions, and staying away from work if they are sick.
Implementation of screening protocol for all workers and a detailed pre-access COVID-19 questionnaire.